Winter is quickly loosening its grasp on Swan Lake, although the shadowed snow drifts will probably remain until well into May. But with the temperatures nearing 50, thoughts turn to spring and the inevitable crush of a fun-filled, visitor-packed summer.
While the Horse still slumbers under several feet of snow, and Chef Kate still lingers somewhere near the equator, plans are underway for an exceptional year of good food, music and even better Montana hospitality at Laughing Horse Lodge.
So where exactly is our intrepid hostess? We caught up with Kathleen at a remote 5 star eco-resort on the west coast of Panama where for the past few months she has been guest chef, teacher, student and explorer…a typical winter for this 12 year Montana resident."I originally came to Panama to build up my Spanish so that I could bring in a South American guest chef for the summer and have a way of communicating in the kitchen," says Kathleen. But not satisfied to have just one ball in the air, the study trip turned into a temporary gig at one of Panama's newest luxury resorts, Boutique Hotel Cala Mia located on an isolated Pacific island in the Archipelago Chiriqui.
"This has been an experience in self-sufficiency and creativity," laughs Moon as she recounts the first trip to Isla Boca Brava…a two hour journey by bus, cab and boat from the nearest town. " I arrived all jazzed only to discover that there wasn't a single piece of chocolate on the island and it would be two more weeks before anyone was going shopping back on the mainland."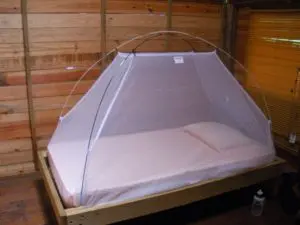 Surrounded by troops of howler monkeys, noisy parrots, and a 3' iguana living in the thatched ceiling of her bungalow, Kathleen went to work (without chocolate) with the property's Italian owner Vittoria Ghini, establishing a Spanish-language SafeServe-style  training program for the kitchen, setting up an on-line reservation system, and giving the island chef a break each week. "It's been a real struggle in the kitchen being 'forced' to work with fresh fish and lobster brought to the dock each afternoon," Moon quips, a smile in her voice.  "I've also learned a bit about making artisan cheese…and in Panama of all places."
Ghini, and her Dutch husband Max, opened the resort 4 years ago and  support the dining room at Cala Mia with an extensive organic farm and dairy operation located a few kilometers east on the island. Fresh arugula, herbs,  aubergine, peppers, tomatoes and a dry-land rice are produced, as well as organic butter, cream and an outstanding Gouda.
Building and maintaining a luxury eco-resort and an accompanying organic farm with a small but state of the art dairy processing facility would be a challenge even in the US or Europe, but to do so on a remote second-world  island with a single car ferry (built by Max) and the feat becomes extraordinary.
"These people are impressive," states our traveler, "my highest complement to Vittoria and Max would be that with their independence and entrepreneurial abilities remind me of many of the Montanans I've befriended over the years."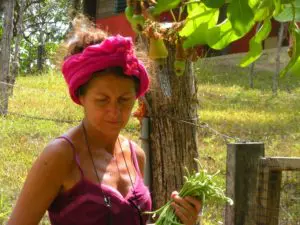 Kathleen returns home just in time to participate in the annual Taste of Bigfork on May 1st.  She'll be bringing with her new ideas and a renewed dedication to providing even more organic offerings on her already outstanding menu.
The dining room at Laughing Horse Lodge reopens May 20th with dinner served Wednesday – Sunday, from 5pm. Reservations are highly suggested.