Mostly organic. Always fresh, Totally delicious
Dining out should not be a timed event. Here at the Horse, we embrace a relaxed dining sensibility, allowing you to dine at your pace without pushing to turn tables. We accept dining reservations every 15 minutes from 5pm to 7:30pm for parties of 1 to 6 persons with only 42 diners per evening. Your table is yours for the evening, no rush – unless you want to get back out on the lake to enjoy a Montana summer sunset and then we'll meet your schedule! The dining room and dining garden are open Thursday – Monday, We recommend reservations be made at least one week in advance.
More than 6 people? Reservations of 7 to 12 require a credit card on file. Cancellations received within 24 hours of reservations time will be charged $20 per person.
Do you have a really big party? Groups of 12 to 36 are welcome to contact Chef Kate and arrange a private dinner on Tuesdays and Wednesdays. Private Sunday brunches are also also available for groups of 16 to 24 persons.
To make your dining reservations or schedule a private event at the Horse, please call Kathleen at 406-886-2080 or email laughinghorselodge@gmail.com.
Guests with specific dietary needs are graciously accommodated with vegetarian, vegan, gluten free and raw food options. The Horse also offers onsite and offsite catering for special events.
Occasionally the Horse is closed for private functions and off-site catering events. Please make reservations to insure your table for a pleasant evening in the garden or the main dining room during inclement weather.
Thursday – Monday Dining
Open May 14 – October 16, 2023
5pm – 8:00pm Thursday – Monday
Reservations: 406-886-2080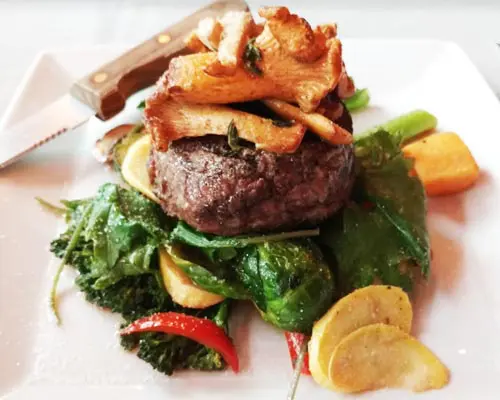 Join us at the Laughing Horse Lodge, a favorite of locals among Bigfork Mt restaurants, and only a 20 minute beautiful drive!