Mostly organic. Always fresh, Totally delicious
Covid Update August 2021
We're doing our part…our staff is fully vaccinated and the Horse is offering garden dining,  with cordially spaced tables available BY RESERVATION ONLY. Garden heating is available as the days cool, however, we suggest you layer up. Vaccinated or not, we request you wear a mask when traversing between the kitchens to use the lodge restrooms.  
In case of rain: Due to limited seating in the lodge, reservations are not guaranteed on rain days. We will call guests in the order reservations were made to reconfirm tables. Once our limited seating is reached, all further reservations will be contacted and informed of cancellation. We apologize in advance for this necessity.
The finest ingredients, prepared with talent and attention to detail, are the foundation of an exceptional dining experience. World-traveler and highly-respected Chef Kathleen, along with her small, international staff, provide guests with globally-influenced dishes featuring organic, local and regional sourced meats and produce.
Enjoy a seasonal dinner menu Wednesday through Sundays. Guests with specific dietary needs are graciously accommodated with vegetarian, vegan, gluten free and raw food options. The Horse also offers onsite and offsite catering for special events. Join us at the Laughing Horse Lodge, a favorite of locals among Bigfork Mt restaurants, and just a (beautiful) 20 minute drive!
Occasionally the Horse is closed for private functions and off-site catering events. Please make reservations to insure your table for a pleasant evening in the garden or the main dining room during inclement weather.
Wednesday – Sunday Dinners
Open May 12 – October 10, 2021
5pm – 8:00pm Wed-Sun
Reservations: 406-886-2080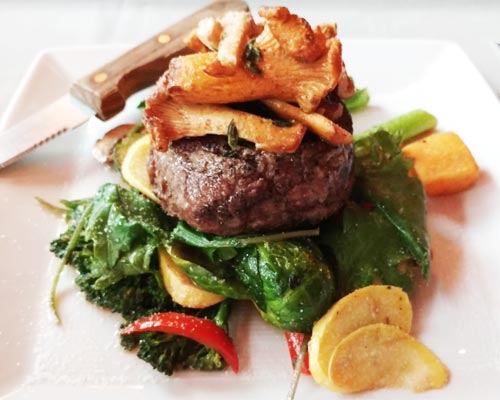 Join us at the Laughing Horse Lodge, a favorite of locals among Bigfork Mt restaurants, and only a 20 minute beautiful drive!