I found myself praying for someone to yell "Fire!" (unfounded of course); for a really, really small earthquake; for the pregnant woman in the tenth row to go into labor. Please go into labor…Now.
The reason for my prayers? Bad art…truly bad, bad art; compounded by the inability to escape the crowded theater.
I – a lover of all things artistic and an artist myself – found myself sitting in the jewel box Teatro Municipal Santiago this last December for a world premier production that I'm certain had Arnold Schoenberg's bones restless in their grave.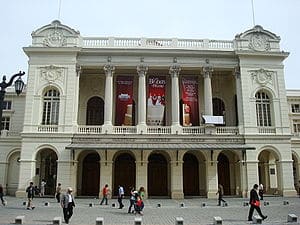 Advertised as a concert, COTH, was more performance art…the kind of performance art that results from two or three really talented – disparately talented –artists sitting around a chipped Formica table in a sweltering 6th floor walkup smoking too much dope and consuming too much KFC. Unemployed artists trying too hard to come up with a unique idea that will utilize and showcase each of their talents…think Ishtar or Heaven's Gate.
I imagine their smoke-induced conversation…
Artist 1 "I've got these four Lipizzaner-type horses that are really talented- they can dance and play dead and they don't mind if I dress up as a giant mordant butterfly and ride them around and around and around and around and around in circles in really dim lighting."
Artist 2 "I've got this really great yogic body that with a very small, tight thong (and a can of silver spray paint)will really show off my ass…oh, and I can move very, very, very slowly."
Artist 3 "I love Alan Berg and I've got a box of crickets."
And yes, I paid money for this –along with several hundred others. I don't know if the robust applause at the conclusion was just for that – the conclusion, or perhaps they actually saw the Emperor's new clothes.
There have been a few times in my 'cultural arts attendance' past when I've wished for Scotty to energize me away from the scene of the crime, and I must be truthful in admitting they all share a theme – atonal noise, umm, excuse me, music.
My first "is this art?" experience came at the hands of Peter Sellars, the then newly appointed artistic director for the Los Angeles Opera. Known for his cutting edge, out of the box view of the world – this is the man who cast Amanda Plummer as Juliet at the LaJolla Playhouse– Sellars decided to take a bite of the Alan Berg oeuvre and Wozzeck came to the LA stage. Known for its harsh subject matter, ugly language, and interminable, unapproachable atonal score, Wozzeck – at the hands of Sellars, became even uglier as it was set in a third world Latin American guerilla camp with the cast tromping around in fatigues and army boots, against a backdrop of camo netting, and, I swear, the buzz of mosquitoes. Although I was appalled by what was being presented on the stage, I was even more so by the audience. In a textbook case of mass hallucination, Wozzeck and Sellars were embraced and adored. The opera wasn't 'bad', it was 'challenging' and Sellars was seen as a genius.
The second experience came in the historic La Scala Opera House in Milan just two years ago. I've tried numerous times during my travels to Europe to attend a performance at La Scala, to no avail. Opera tickets are reserved out nearly two years, and my schedule doesn't allow for such advanced planning. However, when I arrived in Milan with a friend, I immediately checked the La Scala box office, and quell surprise, there were tickets available to a non-opera performance that very night. Disappointed that it wasn't an opera, but joyous at the opportunity to participate in a live performance, I purchased the tickets. The house was packed, mostly tourists like us just wanting a chance to see the inside of this glorious building where Toscanini premiered the beautiful and haunting works of Puccini.
As the lights dimmed, the opening act – an a cappella quartet – walked to center stage and presented a beautiful selection of classic secular and religious songs in Latin and Italian. Their voices filled the house, rich and nuanced. So far, so good.
And then the main act. The lights came up on five men sitting in a semi-circle – a violin, a guitar, a cello, an upright bass and a viola. Ahh, chamber music…lovely. The crowd clapped their acceptance, and around us, hundreds of young people – students apparently – opened up what appeared to be music scores. Wow, a world premier, this is going to be memorable! And so it was.
The five musicians began to beat up on their instruments. Strings were struck, tongues were clucked, the floor was stomped, and chairs were picked up and dropped. Sharps and flats were flung at each other and the beatings of the poor instruments continued for an hour. A brutal, ugly hour in which the students followed along in the score, quietly oohing and awing at the brilliant daring of the composer while Puccini, Verdi and Rossini wailed in the darkness. The saving grace for this evening was that both of us were able to find humor, albeit quietly, in the pretentious performance and the even more pretentious audience. As we left La Scala, I looked at my friend (and to paraphrase past Supreme Court judge Potter Stewart) said, "I can't define what is 'bad art', but I recognize it when I hear it."