Day 22 – Patagonia
I've been here for twenty two days, Here being Patagonia– the Chilean side. I've come for the fishing and my fly rod has been wet for twenty one days (it sits on the porch) – twenty one days of buffeting wind and monsoon rains that have blown out the Yelcho River and turned the towering Andes into a sci-fi fairy land of a thousand waterfalls criss-crossed with vivid rain bows.
Although I've not actually gotten on the water, I have had several hours of dry land (ok, really wet land) casting practice with sinking line; and am learning  to tie my own flies.
Despite the rains, the clients who have come to Puma Fishing Lodge in these weeks have all departed most pleased with their experience. Traveling via the comfortable PUMAII across Lago Yelcho to Rio Futalafu, our last group of six caught on average 100 fish a day. Massive browns and feisty rainbows, most in the 6 -10# range, were the standard each day and everyone was successful.
A new group arrives today and I am doing last minute prep on the menus and packing food for the transfer from the lodge to the PUMAII for a five day cruise. Although my main responsibility is chef, our American guests have invited me to fish with them and our Montana guides have assured me that there is a big brown with lots of attitude just waiting for one of my newly tied flies.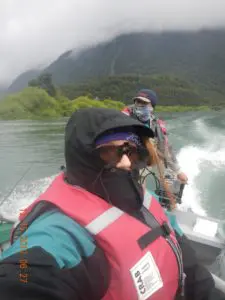 Day 31 – Patagonia
Rain. Rain. And Rain. Oh, did I mention 'rain'?
I have seen the sun all of two days and not complete days at that.
Gentle rain, wispy rain, curtains of rain, solid walls of rain. Cold rain.
Warm  rain. Vertical  rain. Horizontal rain. And when the wind gusts, rain that appears to travel right back up to the sky.  And I won't begin to describe the winds…we'll save that for another day.
I think I am over rain, but it is not quite over me yet, so I am running away for Christmas. Running north to Santiago. Beautiful, hot, dry Santiago. For a few days I will have the opportunity to complain about the heat and use my lip balm to counteract the arid mountain air.
Day 35-38 – Santiago
SUNSHINE! I feel like Snoopy doing a Happy Dance, chasing my tail in glee. The Ice Breaker wool, polypro and rain jacket are stashed away and the trekking skirt and cotton blouse are on-as well as the sunscreen.
Santiago is vibrant as Christmas approaches. Not quite the shopping insanity of Estatos Unidos, but the pressure is obviously building.
I have embraced the Latin dining schedule (which is a bit tough as I am very much a morning person), spending my days walking and exploring finally sitting down at 10pm for a leisurely dinner. Christmas Eve I treated myself to dinner at one of Santiago's finer establishments – Baco – an evening of indulgence beginning with a sinful foie gras accompanied with a delightful Dry–Farmed Old Bush Vine Carignan 2010 (Maule, Chile). (Since California has now outlawed foie gras -and other states will most likely follow- I seem to have acquired a taste for it…and yes, I've also acquired the necessary guilt to enjoy it completely.) An unidentified baked local chevre came next atop some beautiful, seemingly just picked lechuga. The cheese was aromatic and  pungent with just enough rind chew to embrace the silky core. A classic cassoulet followed brimming with duck and sausage. My two hour dinner (now approaching 11:30pm) was topped off with a fresh berry zabaglione and restretto.  Strolling out into the balmy evening air amongst hundreds of others enjoying the coolness, I almost missed the rain…not!
Christmas Day will find me on a tour to Valparaiso and Vina del Mar on the coast…more sunshine and more suncreen! Merry Christmas.