Winter plans are afoot for Chef Kate and the Horse. For the Horse, the late fall plans include several upgrades to the overnight rooms; preparing the gardens for their winter sleep; laying up fire wood; and giving the lodge some TLC in the form of fresh paint and newly oiled decks (normally a spring project but record rainfall this year put painting projects on hold).
By the time the first snow flies, the Horse will be securely tucked in for a long chilly sleep and Chef Kate will be off to her winter adventure – this year she heads to Patagonia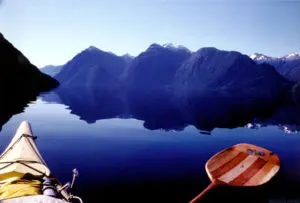 and some world-class dry fly fishing on the waters of Lago Yelcho with the crew of Puma Fishing. One of the most sought after fly fishing lodges in Chile, Puma Fishing has invited Kate to bring her culinary skills to their all ready well-respected kitchen for an exchange of ideas and dishes. And with only eight guests at the lodge at any given time, Puma Fishing owner, Steve Selway, has promised Kate plenty of time to perfect her roll cast on some monster rainbows and browns.
"It has been frustrating this year", says Horse owner Kathleen Moon (aka Chef Kate). " We've had a spectacular summer with guests from around the world – many coming here to fish our incredible waters in Swan Valley. So all summer long, I'm 'talking' fishing, but the Horse is a tough mistress and actually finding time to fish myself was near impossible. I'm going to make up for lost water time in Chile this winter, plus have a chance to learn a new cultural menu."
It was a fishing guest visiting from France this summer that suggested Patagonia and Puma Fishing to Kathleen; a suggestion she quickly followed up on.
Guests planning on a NW Montana adventure next season are urged to include a day of guided fishing on one of the many trout-laden waterways near the Horse, including Swan River and the Blackfoot. The Horse recommends the guide services of Tom at Swan Mountain Outfitters and Jason at Bigfork Anglers and strongly suggests that a day on the river be reserved at the same time your stay at the Horse is booked.
As for Kate, she's looking forward to that spine-tingling 'zing' when she hooks her first 20+ pounder on a dry dragon fly…don't scoff! It could happen!